CANTILEVER SCAFFOLD
The most advanced solution for the façade finishing.
The Cantilever Scaffold is advised in case it is impossible, for some reason, to install the traditional scaffolding system. It is considered the most advanced solution for restoration work or the front's finishing.
Quick and economic
Thanks to the Mario Orlando Cantilever Scaffold, the use of few elements, implemented in sequence on the different floors of a building, permits the quickest and most cost-effective execution of the works of external finishing.
The use of wooden boards can be used to obtain a proper cantilever walkway, ideal to reach and finish balconies.
The Orlando cantilever scaffolding is supplied with an instruction manual containing the technical specifications and the assembly instructions.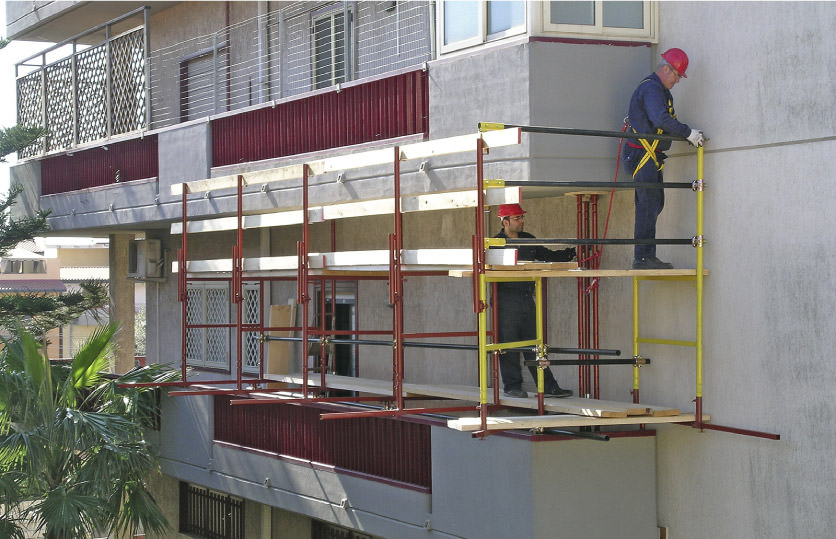 Standard elements
The standard elements making up the Cantilever scaffolding system are:
• Prop
• Arm
• Adjustable foot
• Parapet posts
• Security hook
Optional elements
The Cantilever scaffolding can be supplied of the following optionals:
• Raising frame
• Parapet posts
Regulations
To verify the structure compliance, the following rules are applied to the Cantilever scaffolding:
• D.Lgs. 81 of 09/04/2008 – "Execution of art. 1 law 03/08/2007 n. 123 relating to the health and safety procedures on the worksite".
• D.Lgs. 106 of 03/08/2009 – "Supplementary and amending provisions to D.Lgs. 81 of 09/04/2008 relating the health and safety procedures on the worksite".
• Regulation n. 44 of 15/05/90 – Updating of the instructions to fill in the technical reports relating to fixed metal scaffolding with prefabricated frames.
• CNR UNI 10011/97
• CNR UNI 10012/85
• CNR UNI 10022/84
• CNR UNI 10027/85