MODULAR STAGES
The only real and unique Italian stage.
The Orlando Modular Stage, the only real and unique Italian stage, has been designed to allow extreme versatility. The exclusive system of slotting panels makes the assembly process extremely fast, as no screws or similar joints are required and allows the usage of both sides of the panels.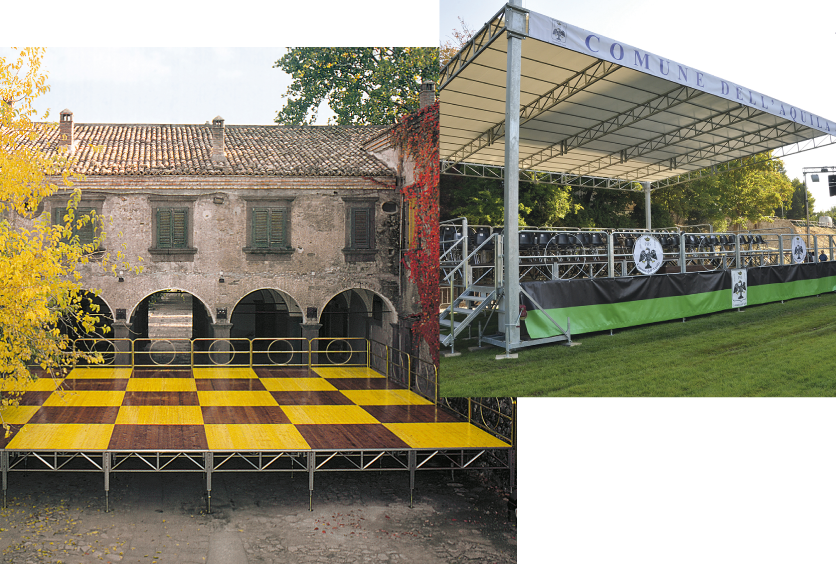 Galvanized steel structure
The protection of the structure against corrosion is realized through hot-dip galvanization, compliant with the relevant regulations.
MODULAR ELEMENTS
The elements of the platforms are designed to fit the spaces in the most economic way allowing the least obstruction on truck beds and in storage.
The base module is 2.00 x 2.00 m. Alternatively, the use of 2.00 x 1.00 m and 1.00 x 1.00 m is also possible.
Maggiori impieghi e Portata
Events | Concerts | Parties
The maximum load of an Orlando Modular Stage is 600 kg/m², certified in updated static tests according to DM 17/01/2018 related with the structural and seismic laws in force.
Wooden-panels flooring
The Mario Orlando Modular Stage floor, solid and compact, is made of 200 x 50 cm, three-ply fir panels, 27 mm thick, which are crossed and pressed together and artificially dried, joined with special glues resistant to climatic variations. The surface of the panels is treated with thermo-set resins.
Standard panels available
• 3-ply cross-laminated KAUFMANN fir wood, non-fireproof panel, Yellow or light Mahogany colour
• 19-layer Birch wood TEX with fire-proof (Bfl-s1 according to EN 13501) and non-slip on both sides in Mahogany colour
• 19-layered birch wood GREY with fire-proof (Bfl-s1 according to EN 13501) and non-slip on both sides in Grey colour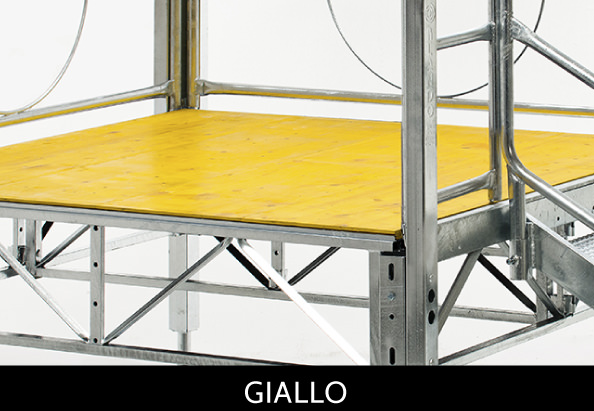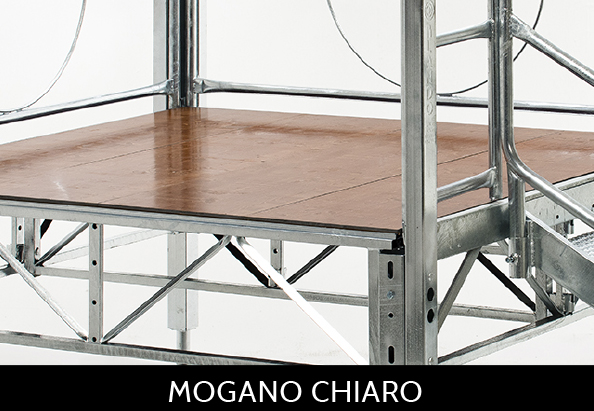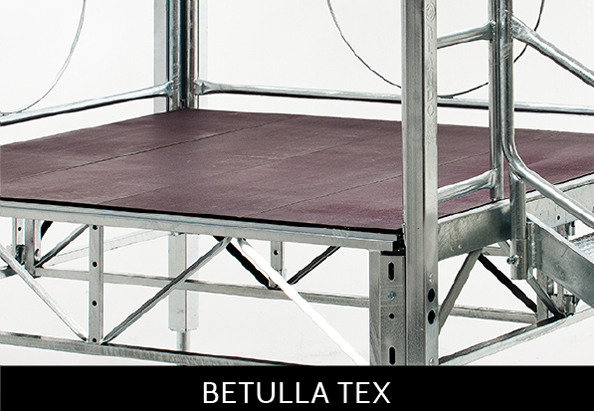 Access stairs, parapets and adjustable feet
Completely redesigned for easier transport and storage, the access stairs of the stage, equipped with handrails, use a functional hook that can be installed in every module of the structure.
The parapet frame, included on three sides of the stage, is made of elegant metal segments.
The supporting pillars, which are also equipped with adjustable screw bases to level uneven grounds up to 40 cm, allow a standardized height of the stage from 100 cm to 140 cm maximum (measurements can be modified upon request).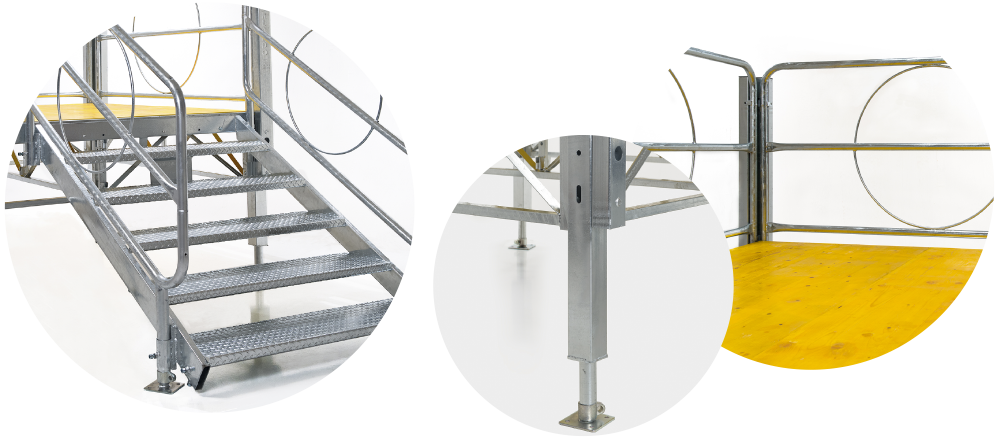 MARIO ORLANDO MODULAR STAGE VARIANTS
SELF-MOUNTING ROOF-SYSTEM
A COVERED AND PROTECTED STAGE
It is also possible to install a Stage with a Self-mounting Roof-system.
Made of joint pillars, connected through grid beams.
The roof is made of PVC, it is waterproof and fireproof.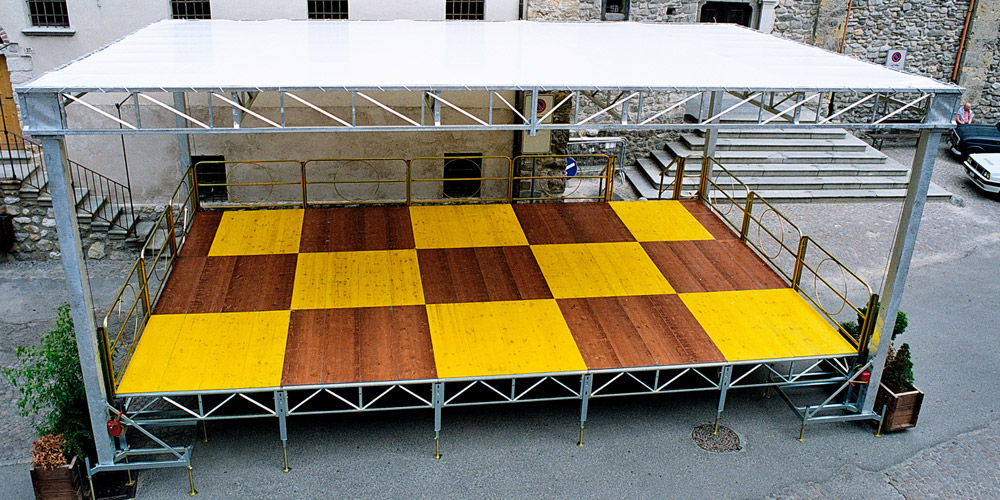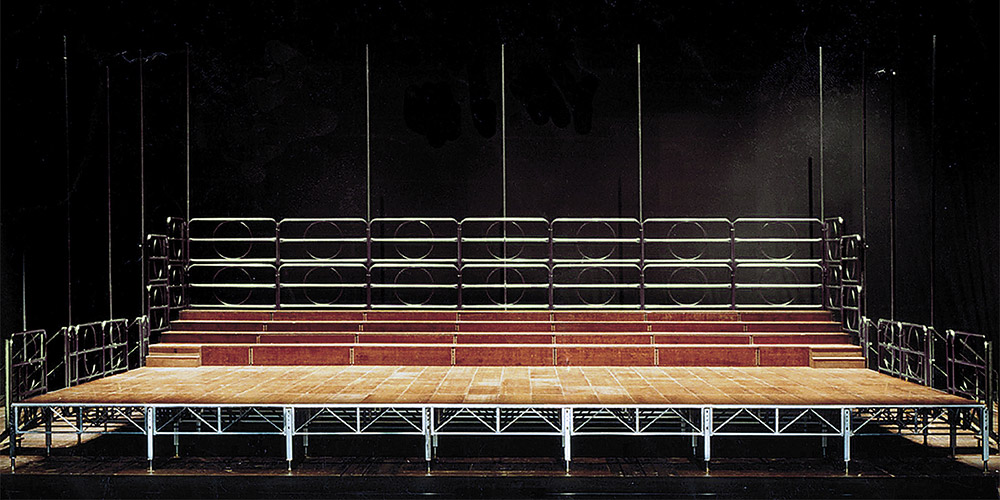 GRANDSTAND SEATING STAGE
A "WELL ORCHESTRATED" SOLUTION
The Grandstand Seating stage is a particular version of the Mario Orlando Modular Stage with a special feature which allows different heights thanks to the proper pillars. It is an ideal structure for choirs, orchestras, school plays, military parades and more.
SOLARIUM
A MODULAR AND ECLECTIC PROJECT
The versatility of the Mario Orlando Modular Stage mounting system makes it possible to assemble Solarium platforms in areas where the installation would be particularly difficult or the ground is uneven. It is possible to obtain durable piling on rocks or elegant catwalks over a pool, for fashion shows.
FIND OUT MORE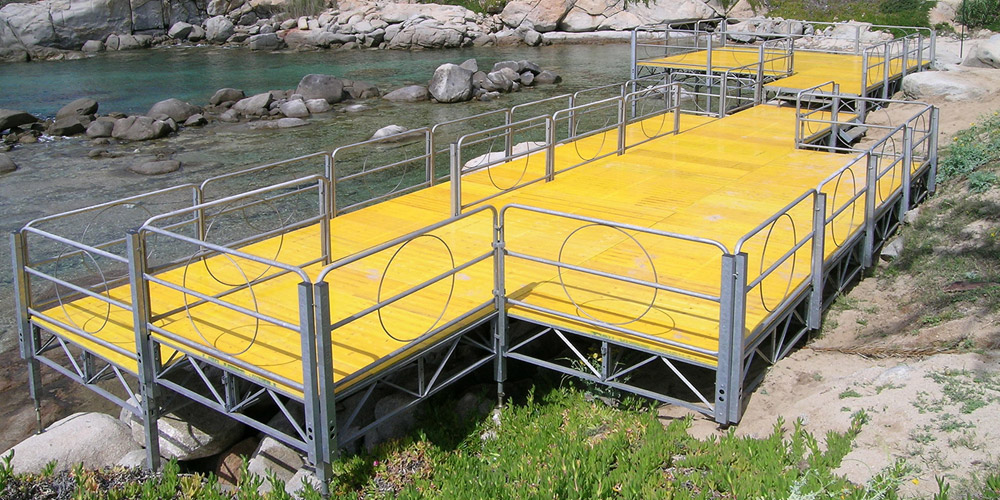 See how easily the Mario Orlando Stage is assembled.